I was invited to paint this truck at the « In Situ Art Festival » in Fort d'Aubervilliers (FR), next to Paris.
Special background by the HEC crew on the left and the OnOff crew on the right.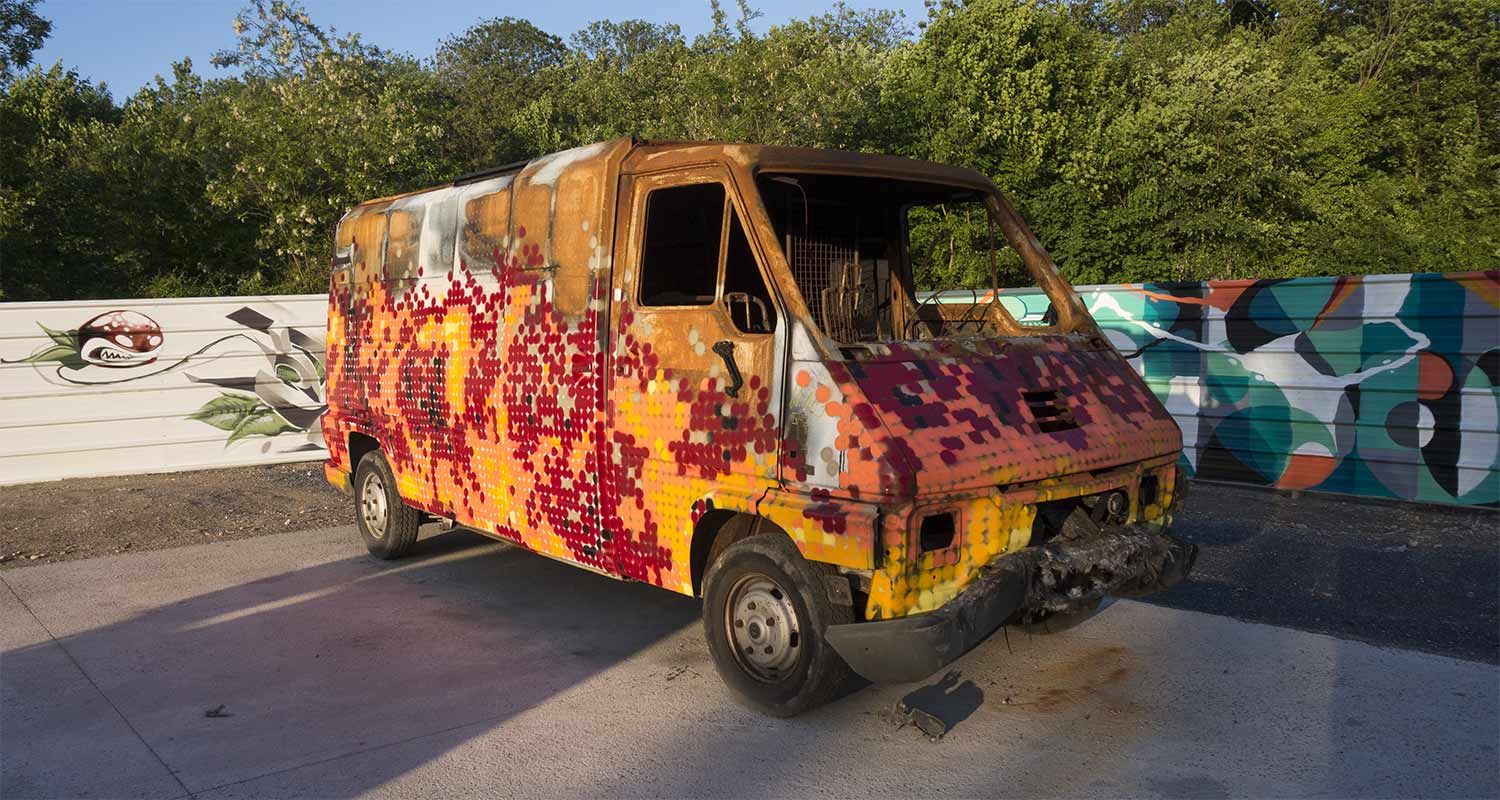 The list of artists also invited :

[FRENCH]
L'In Situ Art Festival rassemble les œuvres de 40 artistes urbains, réunis en secret pendant plusieurs semaines dans le Fort d'Aubervilliers. Leur mission : transfigurer cette friche industrielle mystérieuse et méconnue pour l'ouvrir au public.
L'AFTRP, aménageur du site du Fort d'Aubervilliers, acceuille une initiative de l'Association Art en Ville. Le festival s'étend sur deux hectares et met en valeur un patrimoine multi-forme et hors du commun: Halles, magasins, maisonnettes, alcôves… Ainsi que des épaves de voitures, mises à disposition par l'ancienne Casse Auto.
Les artistes ont été invités à travers cette intervention In Situ à s'approprier le concept de transition, en écho au moment particulier que traverse actuellement ce site, vidé de ses anciens usages, dont la démolition de certains bâtiments est programmée pour cet automne.
Le parcours d'exposition se déploie sur deux hectares, le lieu est rare et la variété des supports accueille un éventail artistique hors du commun.
ACCÈS GRATUIT
DATES
17 Mai 2014 – 14 Juillet 2014
JOURS ET HORAIRES D'OUVERTURE ATYPIQUES
Mercredi, samedi, dimanche : 14h00 – 19h30
LIEU
Le Fort d'Aubervilliers
174, Avenue Jean Jaurès
93300 Aubervilliers
ACCÈS
Métro ligne 7 : station Fort d'Aubervilliers. Sortie 1 puis tout droit sur 100m en sortant de l'escalator.
Entrée du festival située à 3mn du métro
Bus
Lignes 152, 234, 248, 250, 330.
PRÉCAUTIONS DIVERSES
L'organisation a pris toutes les précautions possibles pour que la visite soit ouverte à tous et agréable.
Toutefois, nous vous conseillons de venir avec des chaussures couvertes, particulièrement par temps humide.
Une attention particulière est souhaitable de la part des visiteurs accompagnés d'enfants.
[/FRENCH]