Urban and Street Art artists are leaving the streets to exhibit in the Galerie Laurent Strouk from June 1 to July 15, 2016.
« This event aims to bring together major works of artists, French and international, iconic URBAN STREET ART, from the early 80s to the present. It will include the works of the following artists:
BANKSY, Jean-Michel BASQUIAT, BLADE, BRUSK, CRASH, DONDI WHITE, DFACE, DA CRUZ, FAILE, Shepard FAIREY, FENX, FUTURA 2000, Keith HARING, INVADER, JEF AEROSOL, JONONE, JR, KAWS, KAN, MUSH, RAMMELZEE, RERO, RETNA, REVOK, SEEN, Kenny SCHARF, TILT, ZEPHYR, ZEVS.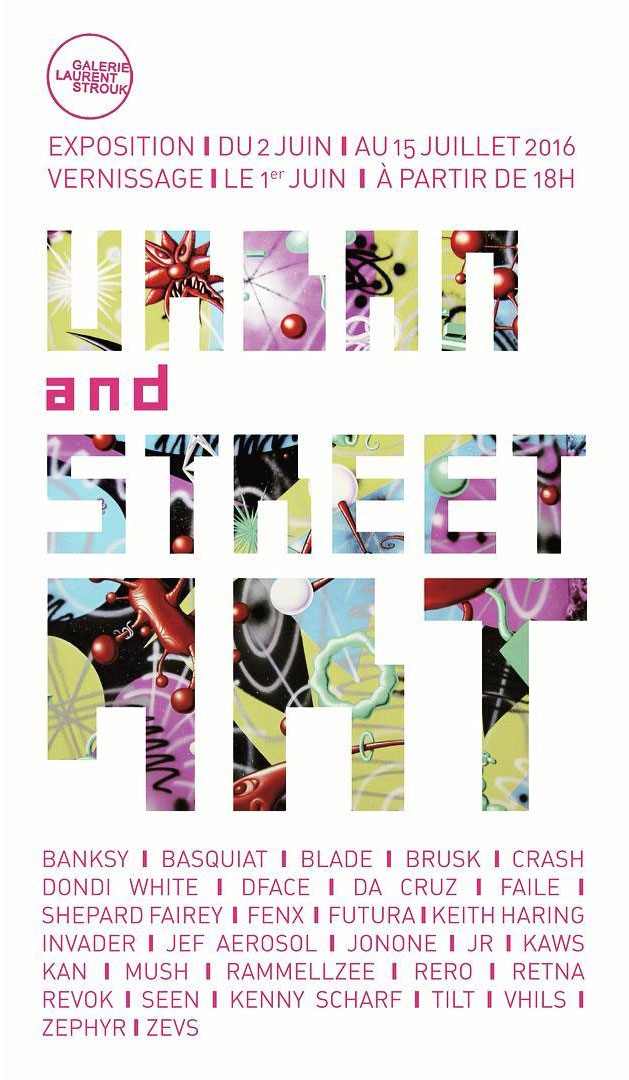 Urban art, whether celebrated or decried, is now considered an art form in itself. Represented in galleries, museums, and auction sales, it is now essential and promised a future. The aesthetics, provocation, poetry, political message, everything is there. This artistic movement that takes forms as diverse and varied as sculpture, stencil, graffiti, poster, mosaic, installation or painting is distinguished by an unprecedented, forceful approach: it communicates with the general public on socially relevant themes, while maintaining a certain aesthetic. Sometimes echoing childhood and games as the works of INVADER or KAWS, sometimes soliciting reflection on the socio-political context as the works of Shepard FAIREY (supporting poster campaign for the presidential election of Barack OBAMA) or BANKSY, urban art is both a call to action and to reconsideration.
It also heralds a new era in the world of Art. It is no longer necessary to enter a museum or gallery to access to culture: now you only have to walk down the street. The occupants of public space, in encountering these works are called upon to remember these visual signatures and questions. Urban art is no longer ephemeral but gradually defining the History of Art. »
See more at: http://www.laurentstrouk.com/en/displays/2016/masters-urban-et-street-art.html
Galerie Laurent Strouk – contemporary art gallery – 2 Matignon avenue 75008 Paris, France

Read more →